Cobá
Cobá Group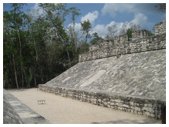 Cobá is an ancient (600 to 900 AD), impressive Mayan trading capital settled in the jungle. It has a lot of sacbeobs (white roads) connecting it to other Mayan sites.
After a guided visit in the Grupo Cobá, we'll take bicycles to explore the rest of this huge site.
Nohoch Mul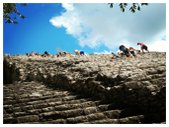 On one of our stops, we'll see a Mayan Calendar.
The main attraction, the Nohoch Mul (big mound), is the second tallest pyramid of the Peninsula. Since covid not possible to climb anymore.
Group Macanxoc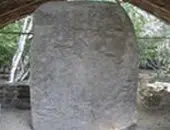 After the group of the paintings, we go to this group that has a cluster of some twenty stelae. The most interesting might be Stela 1 with 313 hieroglyphs on the four sides, referring to the oldest date recorded in the Maya Long Count calendar system, going back to the moment of creation and ended in 2012!
Cenote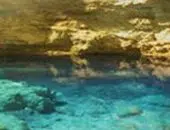 After this archaeological visit, we'll enjoy a cool dip in a crystalline water cenote, followed by a rewarding lunch.
Punta Laguna
Nature reserve Otoch Ma'ax Yetel Kooh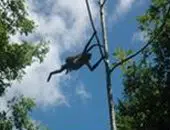 The nature reserve Otoch Ma'ax Yetel Kooh (house of the spider monkey and panter), is located at 58 km from Valladolid.
This reserve is known for its large population of spider monkeys and a smaller group of howler monkeys.
Junglewalk
At arrival we'll start a pleasant walk into the jungle.
A local guide will help us to find the monkeys. As we go in the afternoon there is a big chance we'll meet at least the spidermonkey.
Optional activities
If you like a bit more adventure you can add some nice activities for only 34usd/650 pesos pp to your daytrip:
Before going into the jungle, we start these activities with a Mayan ceremony.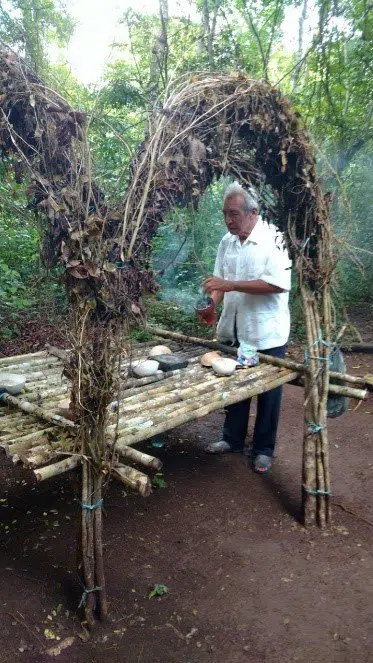 Followed by rappelling into a cenote, to Xibabalba, where the Gods of the underworld live.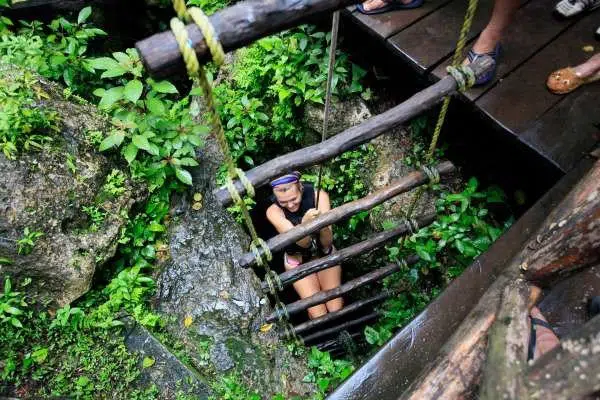 Next stop is ziplining over a lake, for beginners.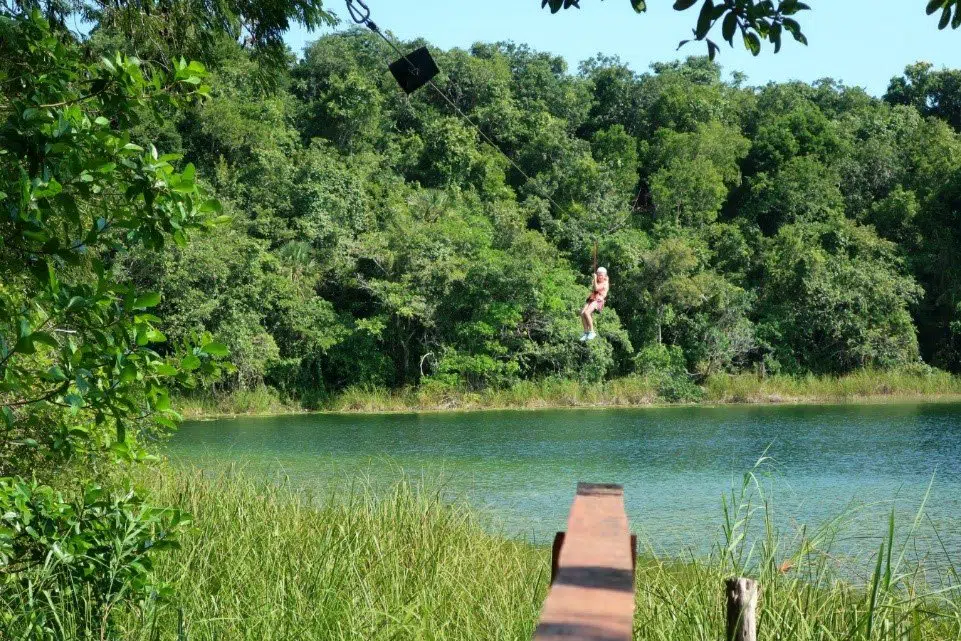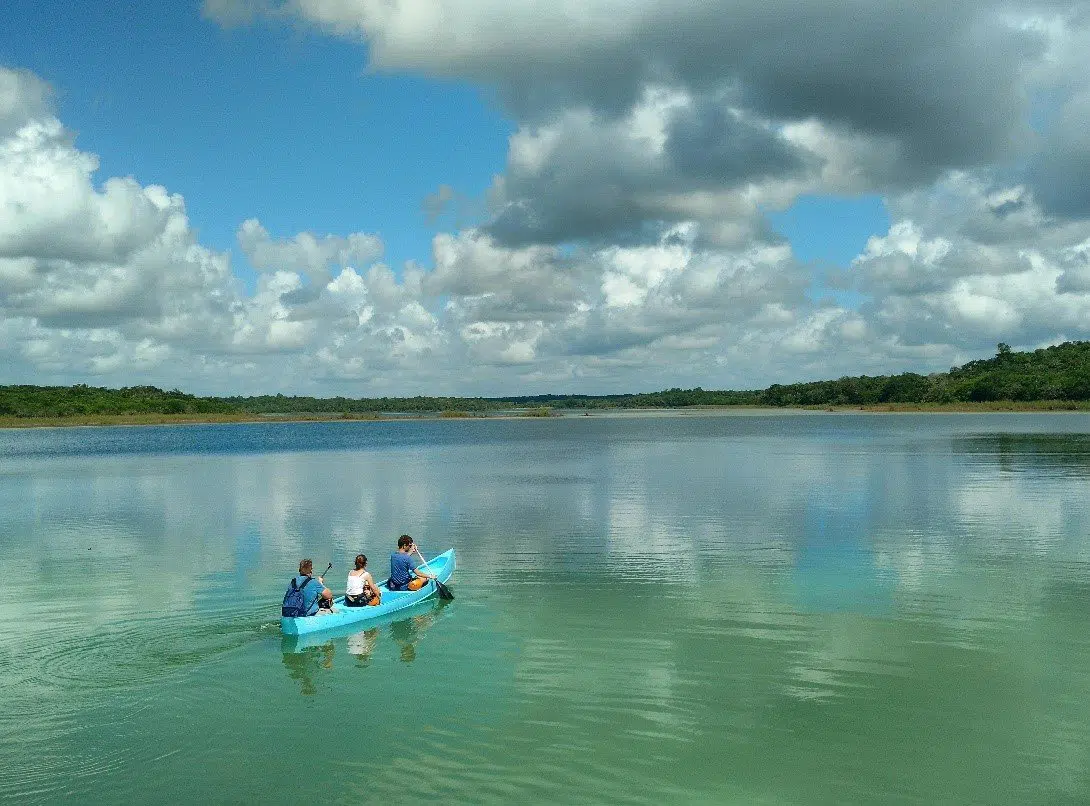 To end with a smooth canoe ride on the lake.
You´ll love it!
At 6:15pm you can join us on the Go Cenote by night tour. Another amazing experience!
| Time | Activity |
| --- | --- |
| 07:50am – 08:00am | Pick up service |
| 08:00am – 08:45am | To Cobá |
| 09:00am – 09:45am | Guided visit Cobá group |
| 09:45am – 11:15am | Bike rental and guided tour Cobá |
| 11:15am – 11:30am | Trip to cenote |
| 11:30am – 12:30pm | Swimming time |
| 12:45pm – 01:45pm | Lunch |
| 01:45pm – 02:15pm | To Punta Laguna |
| 02:15pm – 04:15pm | Guided visit Punta Laguna |
| 04:15pm – 05:15pm | Back to Valladolid |
Price: 2390 mxn / 154 usd per person. 
Children: From 4 – 11 years old 2190 mxn / 145 usd per child.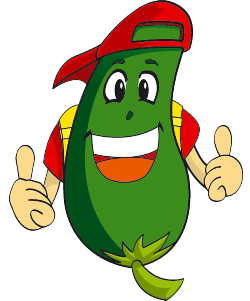 Includes: transport, guideservice Punta Laguna and Cobá, entrance Punta Laguna, entrance cenote, lunch (also vegetarian/vegan), bikerental in Cobá, transport insurances, taxes, pick-up and drop off your hotel/Airbnb Valladolid.
Not included: Entrance Cobá (190 pesos).
Tips for our service providers are appreciated.
Minimum: 3 people .
Optional activities: 650 mxn/ 39usd extra per person.
Includes: Mayan ceremony, zipline, rappel, canoe.
For a more personalized service, we leave in small groups of maximum 14 people.
Pick-up service included: Before 08:00 am
If you want to continue your trip to Tulum, we can help you to catch the bus from Cobá.
We recommend you to make a reservation by sending us an e-mail. The first one who books a tour on a certain day, that day will be the tour for all customers.
Payment for booking is with Paypal or Wise. Only cash at arrival for due amount. More details in 'Contact'.
We don't get commissions in the places we visit! We won't bother you with stopping at shops to let you buy souvenirs. So you will pay a correct price.
Recommended for all ages
We recommend you to bring: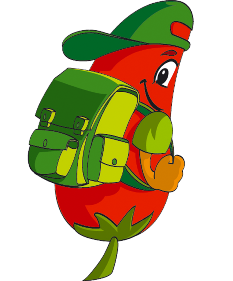 Comfortable clothes
Sport shoes or sandals
Sunscreen
Bug repellent
Cap
Sunglasses
Swimsuit
Towel
Rain jacket
Bottle of water
Backpack
Camera
Cash in pesos to pay the entrances
Good humor
We recommend you not to apply insect repellent or sunscreen before entering the cenotes
We want to reduce the amount of plastic bottles on the tours. Please refill your bottle with purified water we´ll have available.