Valladolid
Convent of San Bernardino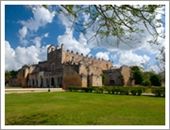 We'll start the tour showing this convent from the year 1560, built over a cenote.
Hacienda
Typical music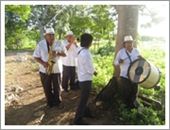 A group of jarana musicians (regional music) will welcome us in the hacienda.
Cenote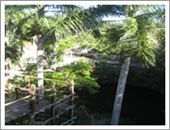 At the end of a walking trail, where you can see different bird species, we'll visit the unexplored cenote of the hacienda.
Lunch time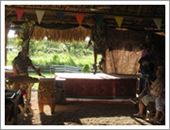 While having lunch, we'll listen to a trio playing latin music. Some Aztec and Yucatecan dancers will show you part of their origin.
Horse Show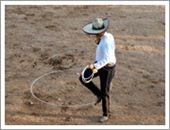 The highlight of this tour is a typical Mexican horse show with Jaripeo, Escaramuzas and Charros.
Degustation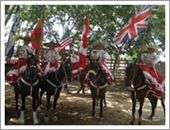 After the show, we'll taste the typical drink of Valladolid: X'tabentún, before returning back safely.
| Time | Activity |
| --- | --- |
| 01:00pm | Departure |
| 01:15pm – 01:40pm | Visit of the convent |
| 02:00pm – 02:30pm | Visit of the hacienda |
| 02:30pm – 03:45pm | Lunch with trio and dancers |
| 03:45pm – 05:00pm | Horse show |
| 05:00pm – 05:15pm | Degustation |
| 05:15pm – 06:00pm | Back to Valladolid |
This tour is only available on Wednesdays.
Price: 45 USD per person.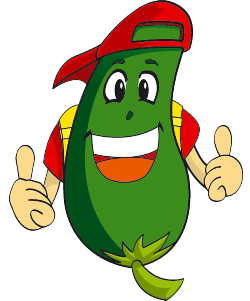 Includes: Guideservice, bike rent with helmet, buffet with one drink, entrance to the hacienda´s cenote, all the shows, degustation.
Tips for our service providers are optional.
Minimum: 2 people
Possible to do the tour by bike or by car (subject to availability).
We recommend you to make a reservation by sending us an e-mail. The first one who books a tour on a certain day, that day will be the tour for all customers.
Payment (only cash: pesos, usd or euro. 4 banks in Valladolid) is here in Valladolid, the day(s) before the trip.
We don't get commissions in the places we visit!! We don't bother you with stopping at shops to let you buy souvenirs. So you will pay a correct price.
Age recommended: 8+ years
We recommend you to bring: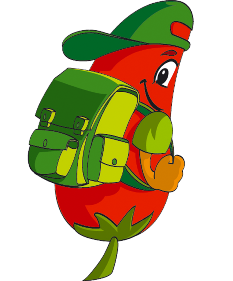 Comfortable clothes
Sport shoes or sandals
Sunscreen
Bug repellent
Cap
Sunglasses
Swimsuit
Towel
Rain jacket
Bottle of water
Toilet paper
Backpack
Camera
Cash to pay the entrances
Good humor
*We recommend you not to apply insect repellent or sunscreen before entering the cenotes